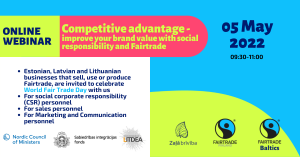 WHEN: 05.05.2022/ 09:30-11:00
HOW: online channel Zoom, free of charge
LANGUAGE: English
FOR: Corporate Social Responsibility (CSR), sales, marketing and communications personnel working for producers and businesses in Estonia, Latvia and Lithuania, that sell, produce or use Fairtrade goods.
Participation link will be sent to registered contacts.
Dear partners
Fairtrade Finland, Fairtrade Baltics, Zala Briviba (Green Liberty) from Latvia and LITDEA from Lithuania are inviting you to an online webinar  to celebrate World Fair Trade Day by building up your company's value.
What to expect:
Our speakers aim to support your teams in speaking about sustainability and Fairtrade and thus help raise not only your sales but also your brand value, public and inner image and with that win customers', employees' and partners' awareness and loyalty.
We aim to provide you with sales and marketing reasoning to support your Corporate Social responsibility strategy. To help your business gain reputational benefits and profit from globally trusted partners, when not only consumers, but also governments are starting to ask you to make your supply chains transparent, ethical and sustainable.
Q&A – there is a field in the registration form, where you can write questions. We are very happy if you use this opportunity and we will give answers. Questions can also be asked during the webinar.
Agenda:
09:30 Opening word
09:35 Tuija Kopra, Commercial Manager in Fairtrade Finland
09:50  Jana Jesmin, Fairtrade Account Manager for Estonia, Latvia and Lithuania
10:10 Examples of using Fairtrade in communication
10:25 Leena Kummu, Communications and Marketing Manager in Fairtrade Finland
10:45 Questions live and questions from registration form
More detailed timetable and speakers can be found on Facebook event: event link here
05.05.2022 / 09:30-11:00
Please note, that participation link will be sent only to registered contacts.
Registration form: Meeting Registration – Zoom
Longer info to events on Facebook and on LinkedIn. IG only poster + link in bio.
09:30 Opening word
09:35 Tuija Kopra, Commercial Manager in Fairtrade Finland. Global and local trends regarding Fairtrade.
09:50  Jana Jesmin, Fairtrade Account Manager for Estonia, Latvia and Lithuania. Baltic Youth Research 2022 introduction, participation in worldwide and local recognition concepts, Fairtrade Month in The Baltics
10:10 Examples of using Fairtrade in communication
10:25 Leena Kummu, Communications and Marketing Manager in Fairtrade Finland. Marketing reasoning  and examples on how to talk about Fairtrade
10:45 Open questions live and questions from registration form