Hello, my name is Salome. From October 2020 to May 2021, I was an ESC volunteer in Lithuania, at Tėkmė School, in the project "Back to the nature."
I think I am very lucky because I met a very good sending organization as well as a host organization. Thanks to them, the days of self-isolation and the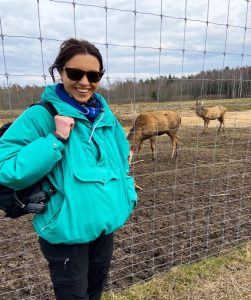 discomfort caused by the  COVID-19  restrictions were filled with unusual and unforgettable moments.
My arriving in Lithuania and Self-isolation:
Arriving in Lithuania, I had to spend 2 weeks in self-isolation with extraordinary people who are still my friends. Because the place we self-isolated was distant from other people, we often went for walks in the forests and did some different activities every evening.
Living alone:
After leaving self-isolation, I went to the city where I volunteered. Since I was not used to living alone, I got my first experience of living alone in Širvintos.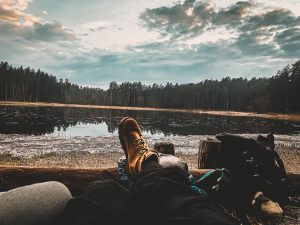 I hope Lithuanians won't mind  if I say that Shirvintos is not a city, it is more a village where it is easy get bored if you don't have company, I was completely alone, I did not know anyone in this city, I took myself for a walk, for shopping, I had dinner alone, and actually I started to enjoy myself with it. I started being more patient and thinking more, I got some skills and power to be strong, I wanted to show to myself that I am strong and independent, and I think I did it.
The school where I volunteered was located far from the city where I lived, so I had to have share a ride with different families or teachers from the school, so I got to know all of them slowly and became friends. It was a real happiness for me to go to school and do my duties, I do not know how, but I found a lot of strength and willpower in my head. In general, I helped teachers and children in English, math and science lessons at school, and at the same time, with the permission of the school administration, I took photos to save as a memory some very interesting and new methods for me, so that the children mastered quite serious and informative material.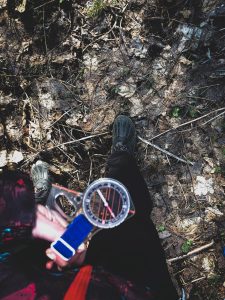 Every day and lesson I remember when we did what we did together. I can not explain this emotion and this happiness caused by giving me a chance to try it on myself. I was so full of positive emotions at school that I could not even feel alone at home. Children taught me to love nature and to be more nurture to it. We were going to orientation lessons in the nature or just hike in the forest – you had to see how many things they knew and how free they were feeling there.
Difficult Times:
Talking about my volunteering work and life in Lithuania, it is difficult for me to escape a very difficult topic, which is the loss of loved ones. It was while I was volunteering, when I received bad news, my grandfather died and I could not say him goodbye. Within a month I lost my grandmother too. I can not explain how difficult these days were, I lost the ability to speak for about 1 week and thanks to the support of friends I made in Lithuania I became stronger and felt relatively better. I will not forget the support of my mentor, who often called me and as a true friend listened and mourned one after another these horrible bad news.
I remember Ieva, our coordinator, asked me if I wanted to return to Georgia after this terrible news, because she  knew how bad I was, but I found strength in myself and stayed in Lithuania and came back to school in 1 week, I remember how warmly everyone met me, how my mentor helped me in making the Christmas box and how the teachers hugged and did not spare warm words. It was my work and that of my friends that strengthened me and gave me strength in myself. 1 month after this story,  I filmed and edited a very funny and lovely  film about a flying pig with the kids and a theater teacher, where the kids were very creative and the filming process was a big pleasure.
Quarantine:
Yeah all that sounds pretty crap to me – all schools and institutions are closed.
I decided to move to Vilnius temporarily and stay at  my friends, in other volunteers' place.  Christmas was approaching and I did not want to be alone. I spent an unforgettable 1 month with them, every day I remember in detail what we were doing and how much we enjoyed ourselves spending time together. I am lucky to meet those 4 person in my life, they organized my birthday as well and made a great day full of surprises, I have never felt so emotional and happy, they are magical people, really.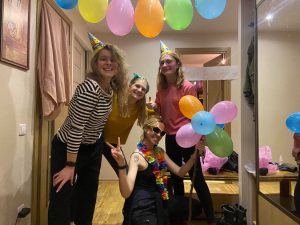 In March, I decided to return home because I realized that the school would not open for a long time. My coordinator and hosting organization supported me and helped me in every way.
Farewell to Tekme:
I remember before I left I was actively going to school for a few weeks where there were only teachers and with them I was thinking how to meet the kids when they came back, and finally with school director we came up with the idea.
The school walls did not look very attractive so I decided to make so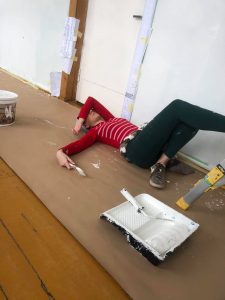 mething for the kids that would make them happy. The school director bought me all the attributes and materials and I started painting the wall, I applied 3 coats of paint to the walls alone so I enjoyed it myself, they often offered help or rest, but I wanted to finish before my leaving.
I remember the night before going to bed I would draw what I thought on a piece of paper and put it on the wall in the morning, so I assembled a grand bird that is now on the walls of the Tekme.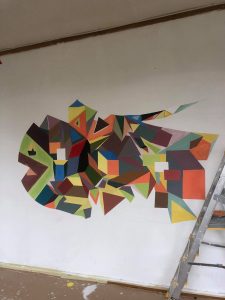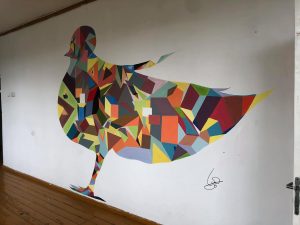 A week before leaving, the children started going to school, I remember the last day of our farewells, I received lots of warm words, paintings, letters and gifts, lots of positive emotions and even a little crying.
I would like to thank the school teachers and administration. I became very close to Tekme people. Rasa, an English teacher, took me to the trip of half of Lithuania,  before I left, so as not to be discouraged by anything, I appreciate their hospitality and everything they have done for me. Their work and attitude to work and people says a lot about them, this community changed me a lot in a good way.
I am already in Georgia and while writing this I have seen everything from the beginning and I am happy that in 7 months I have accumulated a lot of life experience and emotions which sometimes take 7 years, my volunteering, time spent in Lithuania has changed a lot Appreciation. Now I plan to do something like that and continue my career in such a way as to connect volunteering. I think I am very, very lucky to have the opportunity to participate in this project. If anybody asked me, If I would like to participate in the project as a volunteer, I would answer without any pause or thinking YES.
Being a volunteer is giving you a lot of competencies, which are helping us to build our career or just ourselves as good people, I think that everybody has to try to feel how to be a volunteer to find in ourselves new skills and powers. That's why I said that I am super lucky, I got this opportunity and with very good people.