Savanoris Erikas iš Armėnijos: jaunas žmogus gali keisti pasaulį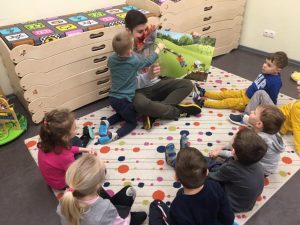 Hi. I'm Erik from Armenia, I had a chance to be a part of the European Solidarity Corp's.
I'm volunteering in Lithuanian Kolping Community,especially in the kindergarten and the primary school. My role is to help children ,take care of them, teach them English by using alternative methods ,playing games ,dance ,watch a cartoons etc.
Yes, it was hard for me in the beginning, because for most of the people it's unusual and funny for adult boys to work with kids. But eventually I got used to it.Do you know why?
Helping others or teaching some things, it all makes me feel appreciated. People may not appreciate what you do, but your inner self appreciates the efforts you put into that work.
Volunteering abroad with children is a fantastic opportunity for us, skilled or with no experience  who have a genuine love for children to help and make a difference in the future of underprivileged children like me with  various backgrounds.
I'm volunteer and I'm not ashamed of it  ,because I believe that young people can make all the difference in  their communities and their lives through the power of volunteering. I run a wide range of volunteering programs and projects across the country that help them do just that.
Helping and teaching them is a genuine feeling. Yes, these kids may be very young, but I already managed to learn a lot of things from them, from being kind to making others smile.
I'm so proud to have worked with children and I'm not ashamed of it, I can proudly say that I'm a volunteer.Doing these kind of volunteering activities helped me grow up, I began comparing myself with my old self. I changed a lot, now I have another point of view, I have different looks.
Yes being kind may boost your mood, sometimes society can laugh ,mock you , because we used to believe that no one fires arrows on a smiling face, but dong kind things will give you power.
That's how this program effected my personal growth.
In conclusion, I'd like to mention one more time,that I'm super proud to have worked with kids, to have the opportunity to learn from them the things I didn't even know.
And don't forget, that giving someone just a single ray of smile, you can change the universe inside them.